Business Relocation You Can Trust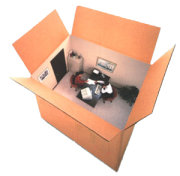 Omega Toronto Movers offer a wide variety of services for moving your business, from a simple reconfiguration of an existing workspace to complete relocation for small and large companies. We provide local moves in Toronto and GTA and interprovincial moves within Canada.
At Omega Toronto Movers, we believe that a worry free move is the key to successful commercial relocation. While every move is distinctive, with specific needs and requirements, our objective is to accomplish each assignment we undertake with speed, efficiency, care and with minimum disruption. We understand that careful management planning and a professional and methodical approach are both essential when implementing all aspects of office relocation. The move can be arranged for evenings or the weekend to further reduce disruption to your business. In order to ensure minimum downtime for your company Omega Toronto Movers can move your office after hours or at weekends if required.
Moving business involves a number of factors and we work diligently towards them to ensure that relocation is done smoothly.
Where access is tight our staff can disassemble office furniture so that it will fit through doorways. This will be re-assembled at the new location. All the furniture will be set up according to your floor plans and specifications. On completion of your move the foreman will walk through the building with you to ensure that everything is in the right place.
With computer systems now an integral part of every business, at Omega Toronto Moving we understand that experience, knowledge and skills in moving this valuable equipment are crucial prerequisites for a successful move of the business: one of many reasons why our clients favour our services.
The amount of computer relocation support we provide can be as extensive and as flexible as you wish. Your own IT department may prefer to handle the preparation of your move themselves. Alternatively, we can arrange for our specialists to provide additional assistance, ensuring your systems and equipment are correctly disconnected, carefully labelled and packaged, ready for transportation in boxes, designed specifically for maximum protection for all of this delicate equipment, leaving your staff free to focus on the move itself.
On arrival at your new location, our team can ensure all systems are unpacked and connected, enabling your company to commence their work from the first day at your new location.