Packing Tips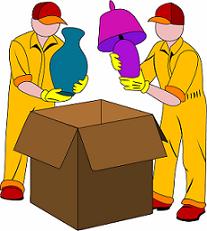 Please read our useful packing tips:
China needs to be packed in a heavy-duty box that can support the weight of your dishes as well as protect them during the move. We recommend using a dish pack box. Each item will be wrapped individually in tissue paper and placed in the box the same way you would serve a table. That is the best way to protect the china. Make sure to place tissue paper in the bottom of the box to cushion your china before putting it in the box. Place tissue paper between each of your plates, and do not stack more than three or four on top of each other. Glasses should not be stacked on top of each other without cushioning in between each layer of china. Martini and wine glasses should be packed as the last layer of china in the box, since they are the most fragile. Leave four to five inches at the top of the box to fill with tissue paper to secure your china.
Books should be packed in small, heavy-duty book boxes to prevent the boxes from being overweight. Lay the books down to prevent the covers from being dented or the pages folded. The box should be packed all the way to the top so another box on top of it does not crush it.
Linens and clothing should be packed in medium sized boxes and should be neatly folded to avoid wrinkles when you unpack the box. We suggest you place a few dryer sheets in between your clothes for a fresh, clean smell.
Suits and dresses can be packed in a wardrobe box that has a bar across the top to hang your clothing. We do not advise putting anything at the bottom of the boxes, as it may wrinkle or damage your clothing.
Table lamps should be packed in two separate boxes, one for the lamp and one for the shade. We suggest packing the lampshades individually to prevent damage from the metal inside the shade if the shades are placed one on top the other.
Stereo components should be packed in their original boxes if you have them, and if not, packed in dish pack boxes. Place about five inches of tissue in the bottom of the box and place your components on top of each other. Make sure to pack your CD or DVD player last as it is the most fragile component. Leave about five inches at the top of the box for more tissue paper, and if there is any room around the sides of the box, fill it in with paper as well. The remote controls, wires, and screws should be packed in a separate box.
Pictures can be packed in a special picture box that can be purchased at any moving supply store. Place tissue paper at the bottom of the box, and insert the picture. Normally, the box can hold two pictures, so you can place tissue paper between them and pack them facing each other. Pack tissue paper around the sides and at the top to secure them in place. We suggest having oil paintings professionally packed by movers or an art gallery, especially if they have extraordinary value. Smaller pictures can be packed in a small or medium sized box, each wrapped with tissue paper.
Delicate statues in most cases need to be specially crated by the movers. Please let our relocation specialist know ahead of time about them for more information.
Computers should be packed in their original packaging if you have it, and if not, in a dish pack box. Make sure to back your data up before your move, as computers are not reliable and data can be lost for many reasons. Pack the monitor in a separate box and protect it on all sides with tissue paper. Wires and cables can be packed in either box, just separate them with a small piece of cardboard.
Printers should be drained of ink to prevent leaks and stains, and packed in their original boxes if you have them. If not, pack them the same way you would the computer.
Small appliances should be placed in their original packaging if available then inside a larger dish pack box. The original box is not meant to protect your appliance during the move, but it will give it extra support if you put it in a larger box. Line the dish pack box with tissue paper and place the small appliances in one at a time, covering them with paper. Make an ample cushion of paper around them so they avoid touching. You can also add a piece of cardboard to separate each appliance, as well as on top to provide support. Finally, put a layer of paper on top.
Do not pack any liquids in a box. If you decide to move shampoo, cleaning supplies or detergent, please take them with you. Packing such items in a box can cause damage to your goods as well as fire. In the trucks we pack the boxes on top of each other and there is a chance that one of the bottles will leak and cause damage to your belongings.
Pack your food only in sealed containers and cans, if you decide to move the rest of the food, please move it your self. If you are moving food that needs to be refrigerated, pack it in a cooler. For long distance moves we are not allowed to ship any boxes that contain food products.
Refrigerator shelves need to be packed in boxes before moving the refrigerator. Tilting of the refrigerator can cause breakage to the shelves if they are not moved out beforehand. You can pack the shelves in a dish pack box along with the refrigerator drawers.
Plasma televisions must be packed in the original box and in most cases we do not take responsibility for the TV after the move. Most plasma televisions contain gas that can leak during a move. Any other televisions can be packed in the original box or can be wrapped with cardboard and moving blankets by the movers on the moving day.
Loose items, baskets or any other non fragile items can be packed in an empty wardrobe box to avoid the loss of small items during the move.
Disclaimer